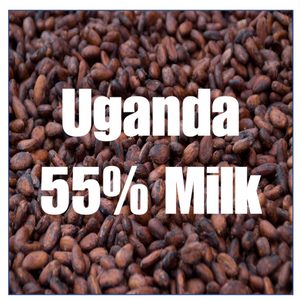 We started as many do with only single origin dark chocolate bars. It was the purist thing to do after all. Our customers enjoyed them but many asked about milk chocolate options. The fact is, our chocolate maker doesn't like milk but we knew that we should respond to customer requests.
The Approach
When we thought about the milk chocolate we had tried in the past, we thought that there was a lack of balance between the chocolate and milk flavors. It often seemed like the bars were mostly milk and just a touch of chocolate. There was often also a strange waxy texture that we simply didn't like. That just didn't make sense. We worked for months trying different beans, different roasts, a dozen different milk suppliers and finally developed a creamy 55% dark milk chocolate crafted using our Ugandan-sourced beans roasted to bring out a caramel note with a touch of milky richness never missing the flavor of the chocolate. This bar is a perfect choice for those who want to enjoy fine chocolate but also like the special richness found in this blend. It has a depth of flavor and balance that we think is perfect.
We make this bar available in plain, with locally sourced Texas Pecans or Peppermint.

Bars contain cacao, organic sugar, milk powder, organic cocoa butter, and your selection of additives.
Suggested Pairings
Fine whiskey - this brings out the mellow flavors of chocolate

Baking - This is a favorite for use in cookies 
Drinking Chocolate - Add two squares to 6oz of hot water or milk and enjoy a special treat great for kids or adults. 
Tasting Notes: Caramel, brown butter, very light milk and cream.