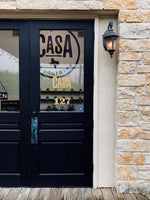 Our Story
Casa Chocolates started in our home kitchen in 2014 out of a love for fine chocolate. As we perfected and advanced our process in the pursuit of exciting new flavors, we've grown from that kitchen to our new store and factory. We're excited to be able to welcome you into our shop and share our love of chocolate with you!
We're a family-run business that's proud to be part of the San Antonio culinary community.
Buying and Selecting our Beans
We carefully select origin-sourced beans from Vietnam, Uganda, Ecuador, the Dominican Republic and other regions from small farmers who practice organic growing principles.
We are a member of the Fine Chocolate Industry Association and believe in supporting organic and non-GMO farmers and importers .
It's important to us that we support the small farmers of these regions and only purchase Fair Trade beans.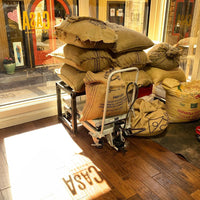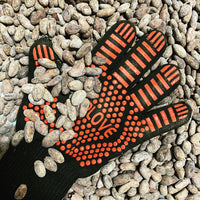 Turning Cacao into Chocolate
We roast all our beans in-house to bring out the specific flavors that make these beans unique. Once roasted, the process is simple:
1. The roasted beans are cracked to expose the inner cacao nibs, and the shells are removed.
2. The nibs are ground for over 24 to 72 hours, and organic sugar is added to balance the bitterness of the raw chocolate.
3. To ensure a bar that's shiny and snaps when you break it, the chocolate is melted to a specific temperature in a process called tempering.
4. See? Simple.
Come say hello!
While we're busy making chocolate most days of the week, our retail business is open Thursday through Saturdays from 10:00 to 4:00 for samples, tours, and sales. That said, if you see us in the store, come say hello!
The 2022 Selection
This year, we're making both Dark and Milk Chocolate bars from special origins around the world.
Come try our famous Mexican Hot Chocolate, milk with Coffee and single origin bars from Vietnam, Ecuador, Guatemala, India and the Dominican Republic. We often have some bars with almonds or Texas Pecans additives.
Seasonal Bars
Throughout the year we make special bars or have selections that offered on a limited basis. Come by and be surprised.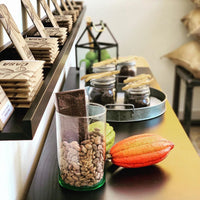 Location
Casa Chocolates
The Alley at Bitters
555 W Bitters Rd
Ste 127
San Antonio, TX 78216
(210) 570-2225
Thursday - Saturday
10am – 4pm

All other days by appointment