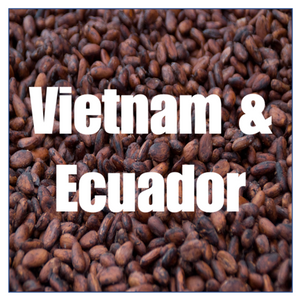 The Realization of a Taste Vision
We have probably tried nearly 500 bars in our chocolate tasting life. In one year, we tried over 300 bars. That's over one a day. Why would anyone do that? We were searching for a Taste Vision. We wanted a chocolate that was deep, rich and interesting but that lasted with a fruity lasting tail much like a fine cabernet. We roasted beans from three continents and twenty different farms. As we got closer to the vision it became clear that not just one bean would work. We had to blend.
The Discovery
We had four final bean origins we were roasting and after months of testing, In the end, we loved the big rich cocoa flavors from our Dak Bak Vietnamese bean and our Ecuadorian favorite. While it would be tempting to drone on about how special tastings were conducted to select balances the fact is we did that but it was pure luck that we happened on this ratio. At the end of a carefully controlled test session there was some left over of each liquor and we simply combined them to get this blend. Fortunately, we keep good records and could re-create it in larger volumes.

The result is a 75% dark bar that has rich chocolate initial notes followed by red fro complete the experience much like a fine Cabernet. With only cacao and organic sugar this is a unique experience and is still one of our favorites. Also available with Pecans, or Peppermint bits.
Bars contain cacao, organic sugar, and your selection of additives.

Pairings
The obvious choice is a fine California Cabernet. The interesting balance of up-front chocolate balancing the fruit-forward Cabernet is quickly reversed with the chocolate adding fruitiness when the Cabernet fruit passes.

Irish Whiskey that has oak notes as part of their profile

Bourbon
Tasting Notes: Chocolate ganache, fig, fruitiness and natural sweetness with just a wisp of floral touches.